So, I was thinking about my pelvic floor exercises today and about how I don't remember to do them until bedtime. And honestly, exercises when I am about to go to sleep (even if it is just clenching muscles) is not my idea of a fun time. I mean, not to mention that somehow it seems harder to do the damn kegels than to walk a few kilometres.
Now, if only walking helped to tone your vagina…
And anyway, all that tensing and untensing? is going to give me wrinkles. (Does anyone else find themself frowning, or is it only me? Maybe that lady you saw in town wasn't actually having a bad day, maybe she was just doing her kegels…)
And then! I discovered to answers too all my problems.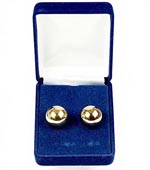 BEN-WA BALLS!
You insert them, clench all your [vaginal] muscles (because you wouldn't be getting anywhere if you clenched your hands) and rock to orgasm. Apparently. And seriously, clenching and rocking to orgasm sounds SO MUCH NICER than just clenching and frowning.
Then, I started thinking of all the downsides. What is your toddler going to think of Mummy sitting in the corner, rocking, with a strange look on her face?
Or your partner, as you gasp while stirring the risotto.
So, Ben-Wa balls would be AWESOME, except for the fact that you would have to find a private moment or two to use them. And who has that kind of time? Somehow,  I really don't want to start associating vacuuming with orgasms, (although, I'm sure that Nathan would love if I vacuumed more often).
So Ben-Wa balls just feel a little strange to me. Even if everytime I see them (they are here) I am tempted to buy them. Just for medical reasons you understand…
I can't help wondering though, what would happen if you were wearing them, rocking away and they fell out? What if you were in public? Would they stay in your panties, or would they roll down your leg and disappear into the street. Would you pick them back up and pretend that it fell out of your pocket? Would you be game?
See what happens when I have too much time to think and I am not allowed to have sex? My mind boggles over very small things…