I tried to take a photo of my Christmas tree the other night. Pretty lights flashing, tinsel catching the light, and a half grown cat clinging to the trunk of the tree, freaking out and destroying the entire thing.
Christmas trees were not made for households with toddlers and cats. My floor is littered with baubles, torn down, thrown away, batted around. There is a thin veneer of glitter over everything; the herpes of the craft world.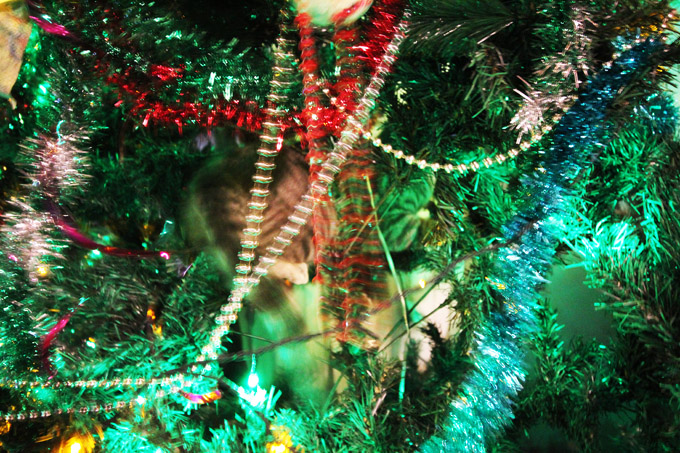 —
It was warm today, pushing 30C during the afternoon. Evelyn ran around naked, refusing to eat and drink. By 5pm she was angry, tired, thirsty. She flailed, and fought, and screamed, and refused everything.
We went to bed at 5.30pm, with a couple of books and a soft blanket. 90 minutes later she wasn't asleep (dammit) but she was ready to join the household again. I'm not looking forward to Evelyn in summer. She doesn't deal well with heat, and when you add liquid refusal to the mix, it has the potential to be an incredibly crappy few months.
But at least it will be crappy with sunshine. These are the silver linings.
—
We see her doctor this week. I'm nervous, hoping to find a solution to all the feeding issues, but also hesitant to pin too much hope on one person. There are no silver bullets here. I learned to stop hoping for magic a long time ago.
What we do have is a strong team, a dietician and speech pathologist advocating for us, and a support network spanning the entire Internet.
I am more grateful than you know.
{ 2 comments }