We were driving home in the dark yesterday evening when Evelyn decided she didn't like it. You have to forgive her; we'd been out all afternoon, beginning with a hospital appointment and finishing with the supermarket. I don't blame her for her dislike of the dark – especially as her eyes hadn't entirely recovered from the drops that opthamology gifted her with.
She began to shriek, in a head splitting tone. It wasn't an upset cry, so much as an angry one, and she made her utter digust known. In the dark, in the backseat, with blurry eyes, she thought she was alone and thus, shrieked to let us know that she was there and where were we?
From the very back, Amy piped up.
"Mummy, I need the music turned up. Can you turn the radio up please?"
Hoping the music would soften Evie's shrieking, which was beginning to sound rather ambulance like in its pitch, I turned the music up, and Amy began to sing, as only a six year old can.
"Amy, shut up! I don't want you singing! You're making me angry!" shouted Isaac, kicking his feet.
Amy sang louder.
"I am angry with you! I AM ANGRY WITH YOU. Stop singing! Mummy, why is Evie shouting? Can you make Amy stop singing?"
Hours in the hospital had left Nathan and I both with headaches and we were frazzling fast. Evie doubled her efforts, but Amy stopped singing.
"Why are you angry with me Isaac?"
"I am just ANGRY WITH YOU." he shouted.
"But why are you angry?"
"Because you made me angry!"
"But why? Why are you angry Isaac? Why are you angry?"
"Wheeeee WOOOOOOO EEEEEEEEEEEE ARRRRRRRRRR Daddddy?"
"Mummy, make Isaac tell me why he's angry. I'm ALLOWED to sing Isaac. I'm allowed to sing. Aren't I allowed to sing Mummy? Can I sing?"
"Make her stop talking to me! I am angry with her! Stop her talking! Mummy, why is Evie shouting? It hurts my ears."
"EEEEEEEEEEEEEEEEEEEEEEEEEEEEEEEEEEEEEEEEEEEEEE"
My head was aching, and Evelyn's voice was reaching unexplored heights.
"AAAAAAAAAAAAAAAAAAAAAAAAAAAAAAAAAAAAAAAAAAAAAAAAAAAAAAAH"
"Mummy, can you make Evelyn be quiet? She's hurting my ears. I am ANGRY WITH YOU. I am angry with ALL OF YOU."
"Why is Isaac angry, Mummy? Why is he angry?"
"I AM JUST ANGRY. STOP MAKING ME ANGRY."
"EEEEEEEEEEEEEEEEEEE AAAAAAAAAAAAAAAAAAAAAAAA."
And that is when my head exploded all over the car.
No. Wait. That's a lie.
That is when I reached across and squeezed Nathan's knee. "All right dear?"
"FINE" he replied, through gritted teeth. "Evie's rather …. loud, isn't she?"
"Yes, she rather is."
Then we got the giggles.
"Oh man, I am so frazzled. I just need them to shut up!" I stated quietly to him, while Evelyn practised shouting her vowels behind me.
"I hear you."
"Mummy! Did you say shut up?" Isaac shouted from the back. "You aren't allowed to say shut up! It's not a nice word! It's like swearing. You can't say it! Shut up makes me angry. You're not allowed to say it."
And THAT is when my head exploded all over the car.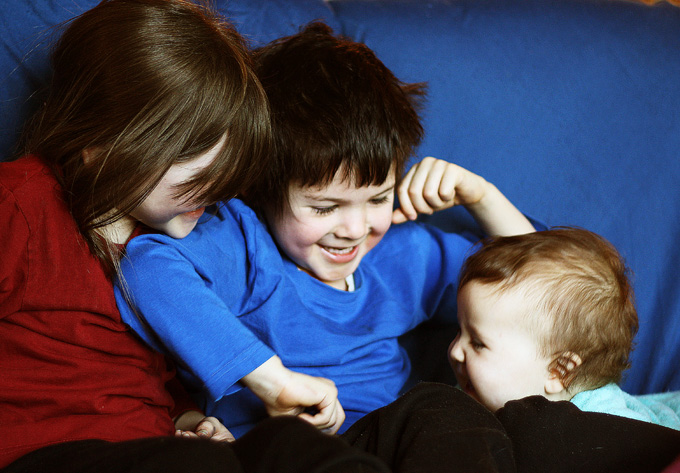 { Comments on this entry are closed }