A while ago, in the middle of our Summer that wasn't, we ended up with a couple of kilos of apricots in the fridge. Being the frugal person that I am, I wondered if you could grow apriot trees from seed, so I did some googling.
It turns out, you can grow apricot trees from seed, but there is no guarantee that they will produce fruit.
I decided to do it as an experiment anyway, because you can never have too many trees, even if they don't produce fruit.
First, you have to take your apricot seeds and let them sit somewhere for 3-4 days, until they dry out and you can hear the seed inside rattling. I ended up with about 40 seeds.
Once they're dried, use a nutcracker or similar to crack the hard outer shells. Don't damage the kernel inside.
I used a hammer to crack ours and ended up with about 25 seeds that were usable.
Soak the seeds in water for 3 days, changing the water every day.
NOTE: Apricot seeds are highly poisonous, especially to young children. As few as 6 could land your child in hospital, so please don't leave them where a small curious child might decide to try them. I popped mine into a Tupperware container and set it aside on a high shelf. For once, we had no dramas.
Once the seeds have been soaked, wrap them in damp paper towel and close them into a snap lock bag. The put them into the fridge for 5-6 weeks. This is enforcing winter, to help with germination.
At the end of 6 weeks, they should have sprouted inside the bag. You can now plant them into pots. I used small jiffy pots to begin with, because that's what I had.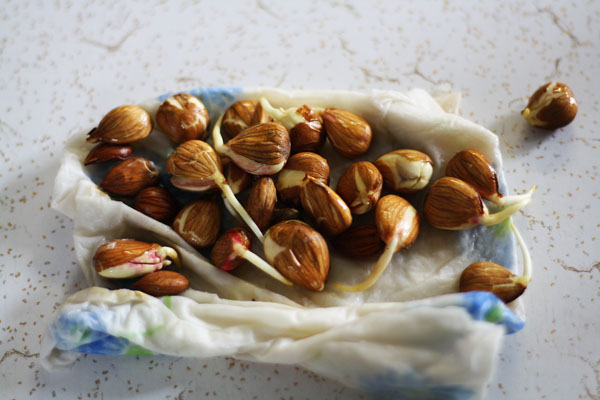 I had 20 seeds sprouted at this stage, and one day, I had the bright idea of putting them out into the sunshine to help them grow. I had one seed just sprouting leaves and the others were close.
What I hadn't thought about was our very naughty puppy. Within 5 minutes, she had jumped onto the table they were sitting on and eaten most of my seeds. I was furious and wished a tummy ache on her, but apparently apricot seeds aren't terribly poisonous to dogs. I should probably be grateful for that, but I'm having a hard time with it.
I managed to save a few and with some time and water, they sprouted little trunks and leaves and they were adorable.
I potted them up into potting mix and they're living on my bathroom sink for winter.
Because they already had an enforced winter sitting in the fridge, they won't be able to be planted out into the garden until the threat of frost has passed. This means that they'll get about a 15 month growing season this time, before winter starts again next year and they lose their leaves for it. I'll probably have to repot them again in a few weeks, because they're growing rather well. The biggest one is probably 25cm tall and gaining a few cm every second day.
Amy wasn't all that interested in the growing process, but I can imagine that other children would find it fascinating, even though it's a bit of a slow process.
So there's how to grow apricots from a seed! It wasn't at all hard, like making bread, the hardest bit was leaving it alone while it did its own thing.