We took our small quirky children to a real live restaurant yesterday and it didn't end in tears. I was incredibly proud of both of them for holding it together and not losing the plot. They even ate a few things.
I have some tips for how to manage this yourself, if you like. My children are 2.5 and almost 5, so definitely at that BAN ALL CHILDREN FROM RESTAURANTS age.
Tips:
Make sure your children aren't terribly hungry. I fed mine before we left home, knowing that it wouldn't matter if they didn't eat much at the restaurant. For them, it wasn't about the food, it was about the participation and experience.
Pick a day where the restaurant won't be terribly crowded. Monday lunch suited us and while it was busier than we expected, the children held it together well and nothing went wrong.
Research the menu first. Ordering is easier if everyone knows what they're having ahead of time. I knew I was eating the mushrooms, we ordered chips and aioli for the kids and Nat wanted something with steak. This lessened the time spent peering over the menu and deciding.
Choose somewhere quieter. Especially if your children have sensory processing issues like mine did. We didn't research the restaurant first, but managed to luck out with a relatively calm environment, with nothing terribly overwhelming happening.
Bring something to keep kids entertained. I had my iPhone with Angry Birds, but they didn't need it. Both kids were having too much fun with their lemonade to want to play silly electronic games.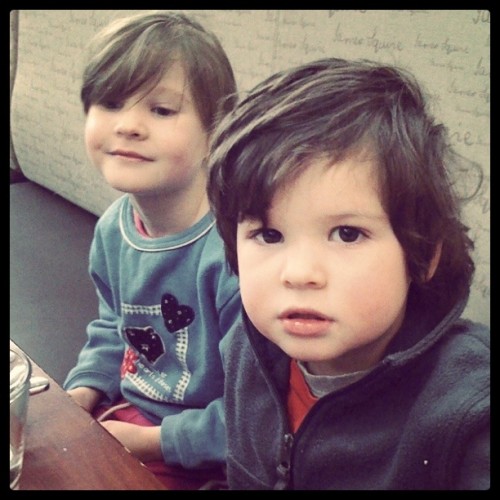 ***
Normally, I don't go out to eat much, because I wasn't sure how the children would handle it and because I don't like to impose on the grandparents to babysit too often.
However, I was asked to participate in the Mushroom Mania campaign, which is running across the country. This pushed me out of my comfort zone, and forced me to go out and eat. Unfortunately it seems that Tasmania doesn't have any restaurants participating in the official campaign, which meant that I got to pick any restaurant I liked and review the mushrooms.
We chose The Squires Bounty in Salamanca as our first place to review and I am so glad we did.
I had the roasted stuffed mushrooms, with roasted tomato, salad and aged balsamic dressing. It was lovely, even if I didn't expect the mushrooms to be crumbed. Tassie does great mushrooms, normally grown down in the Huon Valley and when I was working in the kitchen, we would get giant boxes of mushrooms delivered. They were always fantastic quality and I got to inspect them closely, as I spent rather a lot of time chopping them for various things.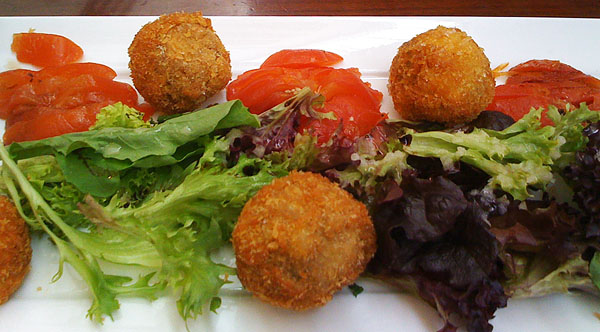 Basically, I didn't expect Tassie mushrooms to be anything less than spectacular and I wasn't disappointed. These were button mushrooms, stuffed with a ricotta mix and then crumbed and deep fried.
The children ate the chips – well, nibbled at them, sort of and Nathan had a steak sandwich.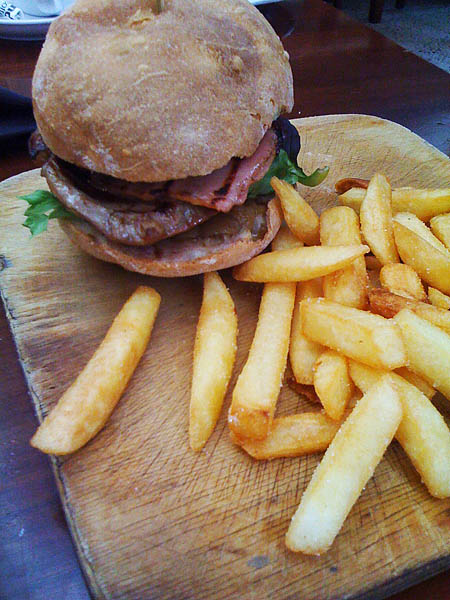 All in all, it was more laid back than I expected and a lot of fun.
Like anything that involves eating with children, we basically ate and then left, we didn't linger over dessert, which was a bit of a shame as the dessert menu looked rather tempting.
July feels like it has been the month of plague here, with the flu, a stomach bug, a cold, a crashed car and a Very Grumpy toddler. Nathan now suspects he has glandular fever and we're just waiting on the stars to align so that we can find time to get him to the doctor for blood tests. It took a lot longer to make it to a restaurant than I anticipated. I guess sometimes, life happens. Especially when you have small children.
***
This post was sponsored by Mushroom Mania and I was compensated for my participation.