I took two of my slow release painkillers this morning, instead of staggering them morning and late afternoon. Normally I skip my late afternoon dose because they make it hard to sleep, but oh, the pain today, and the exhaustion. My ribs are sliding around under my skin like they've forgotten what they're meant to be doing, and my knees ache and the bones slip slide slither around, not quite dislocating, but not feeling right either.
So I took two painkillers at once, hoping it would help – praying it would give me enough pain free time I could be motivated to do something, anything.
All of this would have been fine of course, but I've had some weird vague nausea, so maybe I didn't eat as much as I should have today, which is probably why I felt my painkillers hit about 30 minutes after I finished eating dinner, approximately 10 hours after they were meant to start working.
This is why I've just finished hanging extra cold-defying blankets over all the windows (it's meant to freeze overnight) and making a chocolate ripple cake with nutella cream, and maybe I'm about to go and cut the soap I made today. I'm maybe a little bit manic. However I am still in pain, so I'm not really sure what has been achieved.
Speaking of soap: the recipe today, ooooooh boy. I don't quite remember it being this tricky last time I made it, but there I was, bashing down moulds and trying to poke all the air bubbles out as the soap set in front of my eyes. I tried to smooth it out, but there's only so many abominations glitter can cover.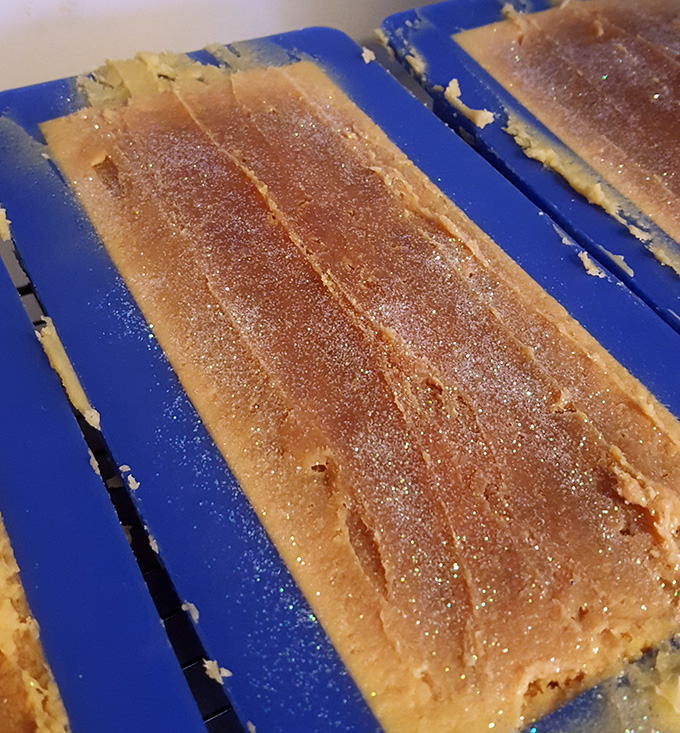 You can see the rapidly gelling centre (that's the dark bit) and the weirdly textured top.
Luckily, the recipe is solid – one I've used a hundred times before – and the soap smells AMAZING (cinnamon vanilla), so provided it hasn't separated in the centre, it should be presentable enough once I get it cut.
Soy wax I ordered arrived today. I seem to remember buying it with candles in mind, but I don't seem to have bought any wicks, so maybe I was thinking of soap? I don't know. I'm beginning to suspect our family's tendency towards ADD did not actually skip me.
Anyway. Soy wax is beautiful because it's actually 87% stearic acid, which means DUN DUN DAAAA, I can experiment with some beautiful high stearic shaving soaps, and maybe a cream soap or two. I steered well clear of pure stearic acid because it is, of course, derived from palm oil and I can't very well be a palm oil free business if I sneak it in labelled differently.
Three new fragrance oils also showed up with the wax – again, I forgot the fragrance I intended to buy (French Pear – almost entirely sold out in three markets) and ended up with Grapefruit Lime (also sold out within a few markets, although I have some of the previous batch packaged in plastic still which is available online), Lavender Cucumber, which I must admit is my absolute favourite, and I can't wait to make a few batches and debut it at markets, because the name sounds off putting, but it has to be the best scent. Sweet and slightly spicy, with cucumber notes and I don't know, it's just beautiful.
I also ordered 500ml of Cucumber Water, which is also divine, although strangely it arrived in 5 x 100ml bottles instead of one large one, which I'm sure cuts someone's profit margins down somewhere along the line.
There's a week until the anniversary of Nan's death and I am alternately perfectly okay, and perfectly not okay, in equal measure. The weather is cold, our wood is running low (regular wood supplier has rather inconveniently taken himself off for a holiday in NSW, not that I can blame him) and I still don't know if my attempts to repair the cracked fireplace has worked or not, as we can't light the fire for another 24 hours. So, there's that.
Death makes me scatty. Sadness makes me scatty. Painkillers which don't kick in for too many hours make me scatty.
In any case, I made some soap, cooked a curry, and have managed to keep all my children fed, warm, clothed (sort of, Evelyn is a nudist in the making) and mostly entertained.
I'm going to call that a win for the next week.
Come on Spring.