Oh yes, it was BRILLIANT, right up until we had a bit of a breeze and some rain.
I woke up this morning, to find it collapsed and half the joins broken. No matter I thought, DUCT TAPE. It fixes everything.
I hassled Nathan until he got out of bed to help me and in the middle of a rainstorm, with the wind trying to blow us away, we put it back together. Of course, then the sun came out and defrosted our frozen fingertips and ears.
We pinned it down better than before and went away.
An hour later, it sailed merrily across my paddock, dropping poles and joins all the way.
This time, it was pretty broken.
Some people might have called it fucked, but not me.
No, I am more determined than intelligent.
Through the waist high grass I dragged its various bits and pieces back to the small enclosed yard.
Wind safe! I thought. Protected! I thought. Easy to access!
Haaaaaaaaaaa. Cough.
Amidst a lot of swearing, Nathan and I put it back together. We only had to traipse back out to the paddock to look for missing pieces half a dozen times or so.
An entire roll of duct tape and an awful lot of cursing later, it was back upright and mostly okay. We pinned it down, even better this time and went inside.
It will be fine I thought. It's protected from the wind on all sides! The weather isn't even hitting it.
I kept thinking that, right up until the wind grabbed it and tried to steal it.
Again.
Racing outside in bare feet, I grabbed it and held it down, while the wind gusts passed.
And then we tied the fucking thing to the fence on one side and star pickets on the other side. I'd like to see it try to run away now.
On the upside, the temperature inside must be sitting somewhere near 38C – a far cry from the 10C it actually is outside.
As soon as I can find the energy to bring the watermelons and honeydew seedlings over from the big garden, I'll pot them up. Again.
I'm sure they'll be grateful.
UPDATED:
Photos. Because Kristin asked me for them.
I tied it to the fence. Front and back. If it goes, it takes the fence with it. Please don't let that happen.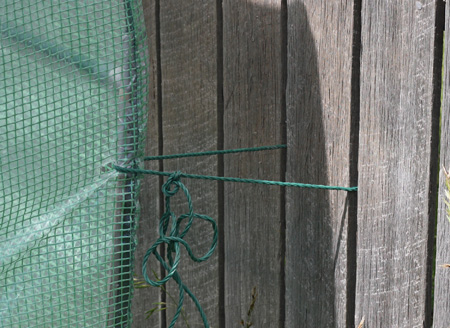 A bamboo stake promotes "stability".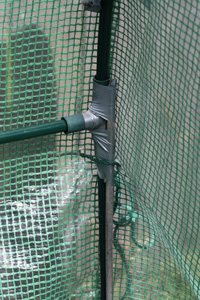 More "stability" and lots of duct tape. And some grass.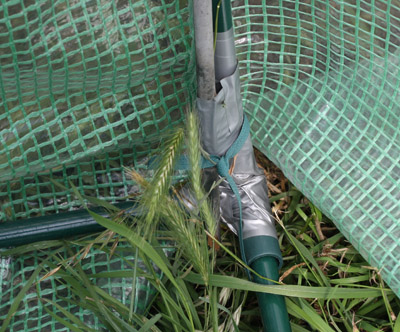 And now, two different dramatic representations of how it looked when I found it blown away.