I've not had a major holiday in a long time. Never since I've been with Nathan and certainly not since our children came along. In fact, the thought of a holiday, while sending me giddy with excitement, also freaks me out a little bit because wow, have you met my daughter? She's a bit challenging. So we've never had a family holiday, which is a shame. I'm sure we're missing out on something.
The last holiday I had, I was 13. I saved up for my plane fares and I went to Adelaide with my grandmother for Easter, and she was, obviously, still alive then. We had a brilliant time working out bus routes into the city and shopping and exploring Adelaide. Oh my word, the shopping. That woman was fun to shop with. We ate sushi for the first time (we were hooked) and it was a blast.
But you know, I was 13 and my Nan wasn't dead, so I may have my rose coloured glasses on a little here.
Anyway, I was named one of Kidspot's Top 50 Mummy Bloggers, which is kind of a big deal for me. The sponsors love us apparently and want to send one of the top 50 mummy bloggers to stay in tropical paradise for a week. Which is my ideal holiday, imagine how well my joints would do if thrown into warmth? And not Tassie Pseudo Warmth, but actual real warmth? I digress.
On the flip side, I am up there alongside some amazing women, who desperately deserve a holiday of their own. Tiff for instance, my amazing friend, who has spent more time in hospital with Ivy these last few months than anyone should ever have to.
My last 18 months has been a bit of a nightmare. Cancer diagnoses, hospitalisations, Nan dying, anxiety attacks, more hospitalisations, geneticists, Ehlers Danlos Syndrome, a coeliacs diagnosis, Paed appointment after Paed appointment, broken arms and finally, early intervention and the beginnings of a diagnosis that is looking likely to end up as Aspergers for Amy. Yes, I finally said it out loud here, despite not wanting to jinx myself. We think Amy has Aspergers. There is a lot going on with Amy that I've not even been able to bring myself to blog about, because how do you tell the InterWebs that your daughter is amazingly talented, but oh my God, I think something is not entirely right here.
I would love a holiday and you can actually vote for me over there. You can also click through and have a look at my three favourite posts and what I've got to say for myself.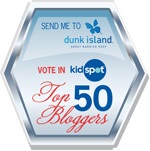 By the same token, I am absolutely thrilled to have ended up as a top 50 blogger. I've been doing this for a very long time now and it's nice to have someone say that they enjoy reading here. Every email I get, every new commenter who says 'I get where you're coming from' makes me happy.
And sometimes, being happy with what you've got is enough, no matter how long ago the last holiday was.
***
Have you been on holiday with your family recently? Where did you go? Where would your dream destination be if you had unlimited funds? (Unlimited funds would send me straight to England to visit my very favourite bloggers over there, before a quick trip to Kansas and then home again.)
I'm half hoping that this summer, we can go and spend a few days on a beach up at St Helens with the kids because that would be lovely and relaxing. Failing that, a day trip to the beach would be nice. Or anywhere I can keep the kids semi contained while I lay in the sun with a book and my sunscreen. Like the backyard. Maybe here, in the depths of winter, I'm just longing for sunshine and warmth. A very real possibility.