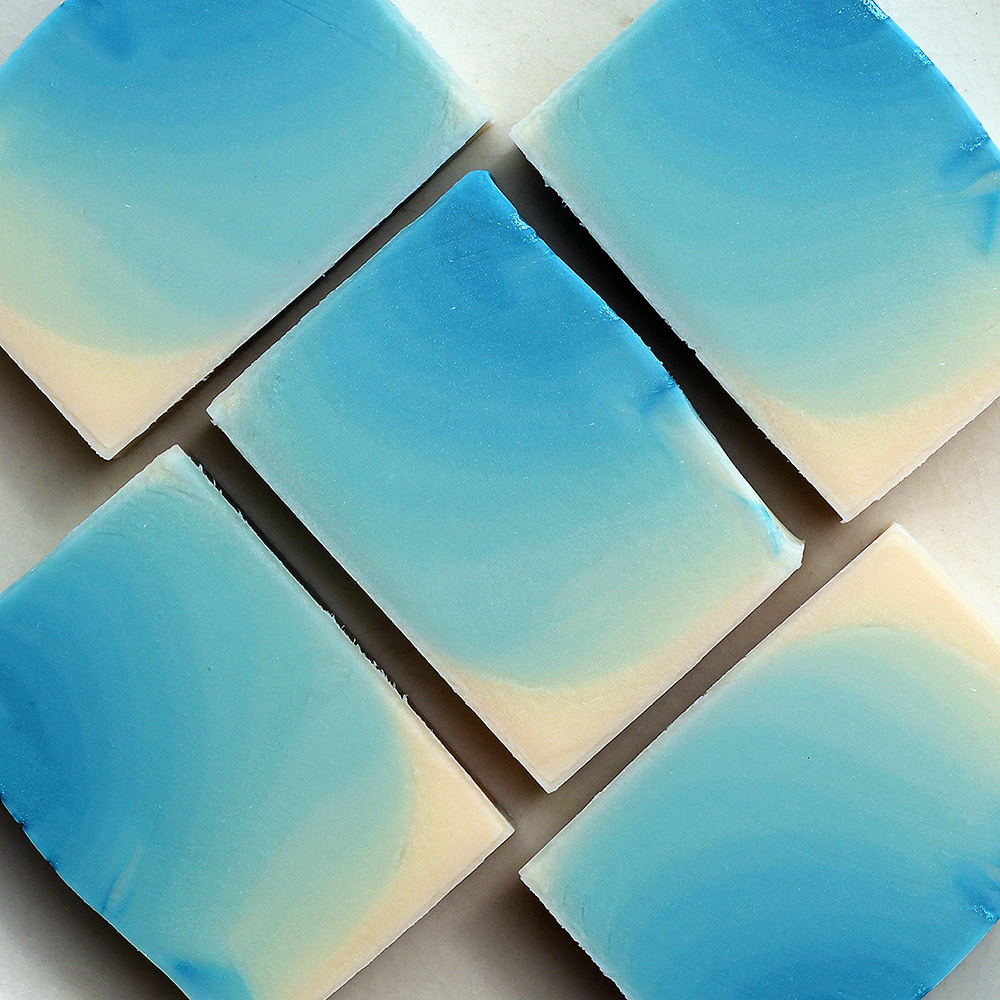 I've been developing an ombre technique for colouring soap, which you would have seen if you're on Facebook, or Periscope. This is the blue soap, which was test #2, and I'm incredibly happy with it.
You can see me make the gold ombre soap (pictured at the bottom) here on Katch, if you like. These will be available online in another month or so, maybe longer if I get around to making a purple soap in the same style today. I want to launch them together, so we'll just see how we go.

It's Monday, which technically means it's my day off, but in reality, I'm spending time checking all of my social media accounts, trying to force myself to eat something, and checking stock levels in preparation for the final two Mona Markets.
We've just finished week 8 of a 10 week market season with MoMa and I am tired, so very very tired. I've had other markets during that time too, so I'm on about my 14th market in 9 weeks. I wasn't planning on writing here to complain, but my knees hurt, my stomach is trying to kill me (possibly I've developed a lactose intolerance, but I'm not certain, so off to the doctor I go), and I am pretty sure that once March is over my joints are going to stage an intervention and go on strike. Which might work for a week, but then we're back at it again.
But MoMa, oh, it's been fun, and interesting, and I'm hoping that the people who have bought my soap seek me out once the market season there finishes and continue to buy from me. I mean, it's really nice soap, and we all need the little luxuries in life.
It's a juggling act sometimes, with poor health and crappy joints. I'm napping a lot, and working odd hours, and spending all week prepping for a market and trying to make sure I eat enough, and sleep enough, and physio enough, and brace enough, that I can do a market on the weekend without falling apart. I suspect I'm running on adrenaline and painkillers, but there you go.
When disability runs smack bang into my need to be doing something, it means I get to work markets, but I never leave the house for anything else.
(Actually, I went out to welcome a friend to Tasmania the other night and realised that I hadn't actually left the house for anything except markets and doctor's appointments since January, so there you go.)
Thank god for good braces, tight jeans/leggings (they keep my hips in place), and the support of Frogpondsrock with driving/setting up/packing down, and Nat of course, who keeps the household running smoothly while I'm practically useless for anything involving errands or housework.
I wouldn't change the work for the world of course – it's gratifying to sell a product I've made with my own two hands and to know it makes people happy to use. Small happinesses are important.
In any case, this is pretty much just me checking in. I'm not dead. The change of season is making my mental health struggle a little, but I'm used to that. I'll double my vitamin D and see how that goes. I'll keep running on adrenaline and smiling lots, which isn't hard, because I do genuinely enjoy talking to people at markets.
And hopefully my left knee stays together for a little while longer, because frankly, I rather rely on it.