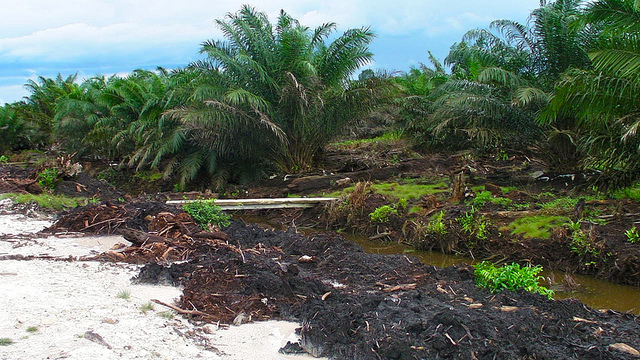 I don't use palm oil.
I mean, firstly, there is the environmental impact. Dead orang-utans, deforestation, cruelty and a long list of other things turned me off the idea of using palm oil in soap long before I even started making my own.
Secondly, palm oil is kind of a hassle and when I hear soap makers complaining about having to melt the entire bucket of palm oil down and stir well before they use it, I'm glad my own personal ethics prevented me from even experimenting with palm oil in the early days.
But that's the thing about ethics, they're tricksy and they hold me to a far higher standard than any other person truly could.
Our entire business is based around the idea of making luxury soaps, along with bath and body products, and not using any palm derived ingredients along the way.
This was an easy point of difference to hold while I was only making soap. The alternatives to pure palm oil in soap are many and varied and creating a palm free recipe truly wasn't difficult.
But lotions, man, lotions. Trying to work out how to make lotions without using anything palm derived has been a headache and a half.
Firstly, there's emulsifying wax. The main kind – Emulsifying Wax NF, contains palm derived ingredients.
So our emulsifiers get tricky. I can buy olive derived emulsifier, but they tend to need more work to retain stability, as well as costing a good deal more, and requiring a higher percentage to work well.
If I combine two different types of emulsifiers (olive derived), with a palm free thickener (xantham gum, or carrageenan), a lotion base containing high stearic ingredients (cocoa butter and shea butter), and a little wax (beeswax, cadelilla wax, or macadamia wax), I can get a stable lotion.
But it's more expensive than a cheap hand cream you buy from Kmart, or even a good hand lotion made using palm derived ingredients.
Even trickier, some of the ingredients we commonly think of as palm derived, such as Cetyl Palmitate and Sorbitan Palmitate, are the main ingredients in a stabiliser derived entirely from olives. The problem is the fatty acids were named after they were found in large amounts in palm oil. Olive oil can still be broken down to make Cetyl Palmitate and Sorbitan Palmitate, just in much lower quantities.
You can see my problem here, can't you? Ingredients need to be queried over and over again with my suppliers and often times with their manufacturers. One of the most common preservatives on the market has an ingredient which may be palm derived, but it may also be synthetic and created in a lab. We're still trying to work out which, and while we wait to hear from the manufacturers, I can't buy or use the product.
The benefits add up of course, despite the amount of time I spent frantically googling, and emailing suppliers, I get to feel comfortable with all of my products.
I plan to start testing lotion recipes in the new year, using an entirely palm free recipe. When it eventually goes on sale (probably around September, to give time for effective challenge testing), the price won't look like a bargain. I won't have people exclaiming over how inexpensive my products are.
However, the point isn't to make the cheapest skincare products available. The point is to make amazing products entirely palm free, so I can sleep at night.
—
Someone once said, "soapmakers are such a small percentage of people using palm oil to make products, I don't see how us avoiding palm changes anything."
And maybe it doesn't. I am a very small maker in a world filled with Kmarts, and Coles-Myer groups, and no, I don't always check my chocolate to make sure its palm free, so I might be a hypocrite.
I can however, take a stand in this one small thing, because I can't feel good about the things I make if I know I'm using ingredients derived from palm.
It's a complex issue and I really encourage you to do your own research on palm oil and what sustainable palm oil is (I haven't been able to find any information on sustainable palm oil which convinces me to use it, although in other countries it can be quite different – I know the US has palm farms on US soil, so it may well be less awful to use palm there) and how everything is used.
In the meantime, I'll keep trying to untangle the threads of what each ingredient is derived from, and making what I can.