…that I use to keep my house clean. *SNORT*
Have you seen my house lately? No? Well, lets just say that the tips probably aren't working.
Anyway, Witchypoo tagged me with her meme that she came up with all by herself and honestly, it is a great meme.
Instructions:
Write your tip(s) with a link to who sent the meme to you, along with the instructions. They are better if they are your own discovery, or not widely known. Still, tips that make a difference to you are all good. After your tips, you will want to tag some friends who may even be hard up for blog fodder.
1- Bi-carb soda will shift any amount of grot. Caked on muck inside your oven? Make a paste of bi-carb and water, smear it on, leave for 10 or so mins, come back and wipe off. With a small amount of scrubbing everything will be like new.

Magic stuff. Buy some now.
I use bi-carb for those pesky stains that develop around oven hot plates and for the butter that burns onto baking pans.
So now that I have told you about my huge bi-carb fetish secret, I find I am out of ideas. At least household ideas. So onwards and upwards I say.
2- To keep toddlers clean while eating? Serve all food in the bath tub. Bread swells substantially when wet, so make sure you serve plenty of sandwiches. Toddler will end up fuller and everyone will be happier. Of course, you need internet access in the bathroom so that you don't miss out on blogging while Toddler is silent and eating.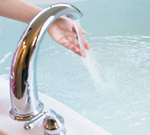 If you can't get internet access in the bathroom, I highly suggest setting up a tub full of water somewhere you do have internet access. Either that or a set of intricately arranged mirrors so you can see around corners.
3- To quell The Shriek? Duct tape is your friend. Either that or buy yourself some earplugs.
4- We all want those pre-child pre-aging perky boobs don't we. Now, I have come up with a revolutionary way to make your boobs perk back up to where they used to be.
The answer is simple. Just put on a breast hugging t-shirt and no bra, then hang upside down. Your breasts will instantly end up back where they used to be. Simple really. We should really all embrace walking on our hands.
WARNING: Do not attempt to do this anywhere near a boob obsessed toddler when your t-shirt is NOT breast hugging. You WILL end up with a toddler attempting to feed while your boobs fall out of your top. Toddler will find it hilarious and you will be stuck upside down.
I am tagging –
and
I tagged some of my newer commenters as well as some old friends. Thanks guys for coming over and visiting me.