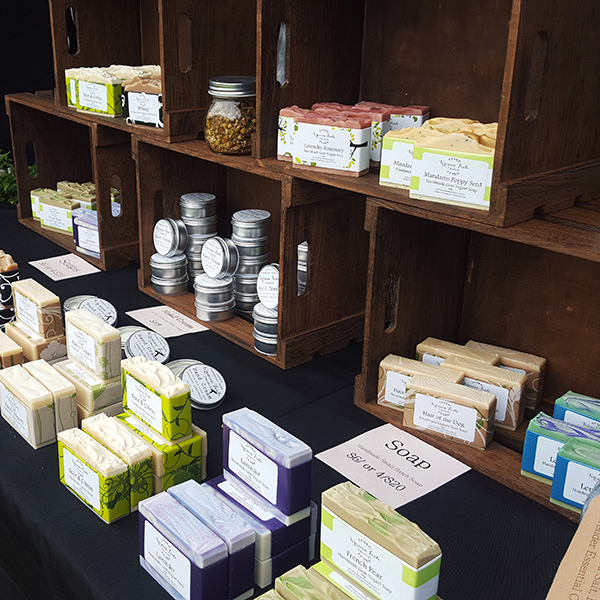 The beauty of working for myself is when I find a better way to do things, I don't have to mess around waiting for a superior to okay changes which make my life easier. Which frankly, is quite nice.
I've done a lot of markets in the last 12 months. I've learned a lot, tweaked my set up more than a few times, and created more things to sell.
But it's too much. Too many types of soap, too much to keep up with, too many products.
So I'm streamlining things down.
Less choice at markets. Less scents. Less products.
—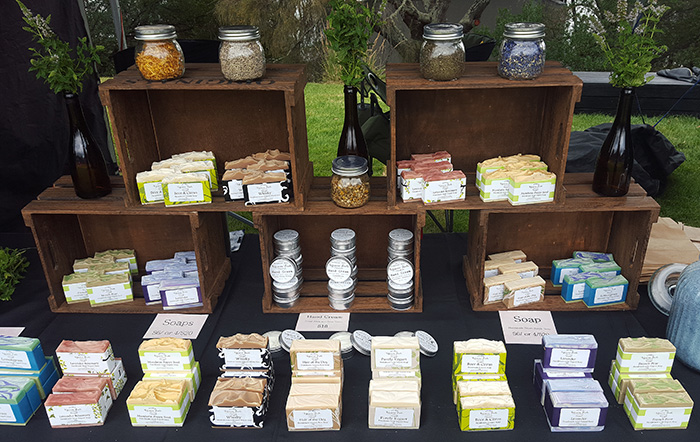 I was at Mona Market on Sunday, with a limited edition range of soaps. The fermentation theme of MoMa this year works perfectly with soap – it's easy to add fermented products to soaps and make the soaps even more beautiful. Fresh Tasmanian goat's milk I turned into yogurt. Beer. Whisky. Fancy soaps, with fancy ingredients, and fancy bubbles.
What I got out of MoMa is that sometimes, less choice is best. I took along 10 different types of soap, three hand creams, three bath salts, and a beard balm. It was the simplest set up I've ever done, and it worked. 30 minutes to set up. 10 minutes to pack down at the end of the day.
Streamlined perfection.
Of course it helps that we sold really well at MoMa, and went home with less than a third of the stock I took along, but still.
Sometimes less is more, and allowing the products to speak for themselves, while not being overwhelmed with choice, well that's a beautiful thing.
—
Markets are hard work. Rewarding – very rewarding, but they're work.
You have to leave home early, carry all your stock in, set up, sell things, pack down, carry all your stock out, then go home and unpack everything.
None of this is a problem if you're taking along 10-15 utterly gorgeous types of soaps you love. But slowly, my market set up was getting unwieldy. Five huge boxes. Shelves. Little bits and pieces everywhere.
And then I'd sell soap and at the end of the day end up with four soaps here, three soaps there. Not quite enough left to create a perfect set up and keep it restocked, but too many (and too nice) to shuffle into the seconds bin, or cut down for samples.
Lonely soap, waiting for me to restock them, to recreate their perfection all over again.
Of course, I'm always going to have that problem. I'm always going to end up with 1-2 soaps left from a batch, while I wait for the next lot to cure.
But this is an easier problem if I'm not constantly trying to keep 80 types of Thing in stock.
Which is to say, we're going smaller, not bigger.
And I'm good with that.
On the flip side, it means that the online shop becomes my smartest resource. What better way to sell soap than online, to you guys, who have been here since the beginning?
There's beauty in having customers able to pick up a soap and smell it, to experience it, to love it.
There's also beauty in online customers taking a chance on my descriptions. On buying with prettiness in mind. Of having to keep my photography skills on point to showcase just how good the soaps are. (They're pretty good)
We're in a state of flux right now, as I phase out some types of soap, and restock others.
But that's okay.
Like I said – the benefit of being in business for myself, is that I get to do what works for me.