And before you get all excited, no, I am not giving my blog away. Just sayin'.

So about the blogosphere I have been seeing these little buttons. Isn't it pretty? Click on it, and it will take you to a pretty awesome blog.
Okay the whole point to this is that I offer something to give away.
Now bear in mind that I live in Australia which ups my postage costs quite a bit and I am a complete cheapskate thrifty person, so I want to make this easier on everyone involved.
I was going to offer you a crossstitch that I stitched with my very own hands, but then I discovered that Nathan had packed the study and I couldn't find it. And no one wants to win a cross stitch that they haven't seen and may possibly be horribly lost by now.
THEN I was going to offer a crocheted baby blanket, but I don't think the shop sells the wool I like anymore. Plus, then we come back to that whole postage debacle.
So then I was going to offer a book. But again with the postage. (Postage should really be free to blog friends. Lets all tell the post offices that okay?)
So now I have had a good long think and I am offering 2 choices. IF you live in Australia I will offer you a $25 Coles Myer gift card (is the Myer bit still in the name? I mean, after they sold Myer?).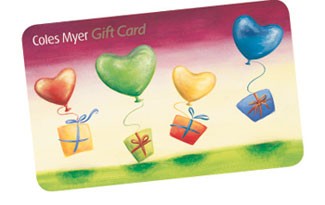 IF you live outside of Australia (Yes, I know that is 99% of my readers) I will be offering $25 via Paypal. If you have some great objection to Paypal then if you win, you and I can work out something that suits us both. Maybe a Starbucks card or something?
Come what may I WILL be offering $25AU worth of something to someone.
TO ENTER: simply comment on this post and tell me what your favourite hot drink is. This is open to bloggers and non-bloggers alike. All you need is a valid email address.
Prizes will be drawn 8pm Sunday night, MY time zone. So that is Saturday evening/Sunday morning for US readers.
Subscribe to my feed to get yourself a second entry. Just mention in your comment that you have subscribed and I will enter you twice.  (Hey, you can always delete me at the end of the competition if you don't like my writing!)
(To my regular readers, I won't be emailing in reply to these comments. I still love you though, K? PLEASE don't think that I have abandoned you! It isn't true!)