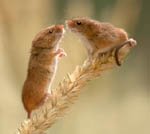 When I was a teenager, we had a bad mouse plague one winter.
I was sleeping inside at the time, on a mattress on the floor of my brothers bedroom. He was about 8 at the time and my bus/caravan had no power and therefore was too icy cold to sleep in. Something about waking up to frost INSIDE the windows made me want to give up my privacy for warmth.
The mouse plague was so bad that if you shook the curtains, mice would fall out of them. It was BAAAAD.
Anyway, one night I was trying to sleep and suddenly the cat started going stupid and running up and down my legs.
I assumed it was a mouse (hell, I was completely desensitised by then) and so I started shaking out the blankets. The cat pounced, the mouse squeaked and I heard crunching nomming noises.
Satisfied that the mouse was dead, I promptly fell back asleep, after first reminding myself to be careful where I trod if I had to get up.
There is nothing better than treading on a mouse liver in bare feet. NOOOOOTHING better.
After sleeping all night (yes! I actually used to sleep! all night!) I woke in the morning and got up for school. Eventually, I was looking for something (think messy teenager) and looked under my pillow.
Lo and behold, there was a second mouse! Dead! Under my pillow!
I had slept on a dead mouse.
It was even squashed flat.
Obviously I went to school and told my friends about it. I'm classy like that.
One friend suggested that maybe the cat lost a tooth.
M – 'Maybe your cat lost a tooth.'
V – 'And the mouse was actually a present for the cat!'
M – 'Well, cats don't exactly need money'
V – 'It can't have been a good tooth, the mouse was very flat and very dead. Pretty pathetic gift if you ask me'
M – 'Did you feed it to the cat?'
V – 'Yup, I just had to wiggle it a bit and she thought it was alive'
M – 'See?'
M – 'Or maybe you lost a tooth and the tooth fairy was actually just messing with your head'
V – 'A deranged tooth fairy'
M – 'Nice.'