Somehow as I was cutting vegetables for soup, I tried to chop my finger off.
Can we say ouch?
So after lots of bleeding (many many tissues and a tea towel goot soaked through) I have a finger that is just about useless and a touch painful.
You know, I took photos, but I don't think they are entirely appropriate for a blog. I mean, unless you are all into blood and gore? I didn't think so.
So, without too many words, because it is hard to touch type minus one finger, I present you with truthiness.
[Because all the cool kids are doing it. Because I had nothing better to write about, unless you really want to see photos of my finger? I thought not.]
I think Sweetney came up with the idea. Then a whole other bunch of cool bloggers shared, so I am going to as well. You can totally blame these ladies for this horrible photo of me. Her Bad Mother, Oh The Joys, IzzyMom, Mrs. Flinger, Motherbumper, Mamalogues, Breed 'Em And Weep, Redneck Mommy, Sarcastic Mom and Dawn.
Here I am, first thing in the morning.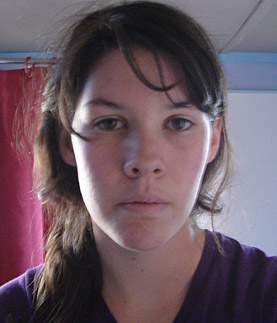 You're totally jealous of my hair, aren't you. I can see it in your eyes (hiding away behind the mirth).
The scarier thing? It is now nearly 8 hours later and I haven't brushed my hair yet. Run my fingers through it and tied it back properly, but I haven't brushed it.
Maybe because the toddler and the puppy have lost the brush.
*sigh*